"ROOMS ELENA"
Stefanos Kachagias
New Heraklitsa,
Kavala - Macedonia Greece
Tel.1: +30 25940.22.794
Mob.: +30 6937.606.616
Fax: +30 25940.22.794
Τ.Κ.: 64007


Google Map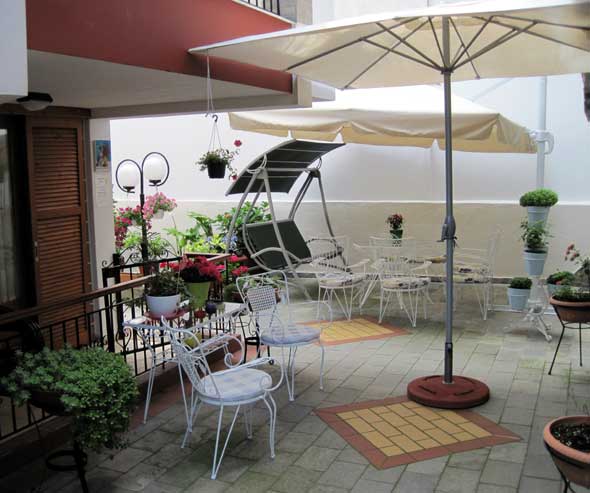 RENTAL ROOMS "ELENA"
In green Nea Heraklitsa, just sixty (60) m from the beach and ten (10) km from Kavala, one can find the rental apartments and rooms "Elena".

Nea Heraklitsa has both the tranquillity of a village and the glow of a bustling tourist resort.

"Elena" is in this idyllic place. Features of accommodation "Elena" are the cleaning and the caring of the premises as the hotel is a family business since 1992.

Just a few meters from the sea, the visitors can relax and calm enjoying the beauty of nature. An essential destination is the beach of Dunes, just seven (7) km away from the area.

Apart from the above, visitors can tour in the beautiful village as the hotel is 500 meters from the village square.

Furthermore, in just 100 meters, there is a super market from where visitors can buy anything they want and also in the centre of the village there is a pharmacy in case of an emergency.


However, if a visitor wants to taste the cuisine of the region, he can do it within walking distance of the apartments
"Elena"
, at several restaurants, where people of all ages hang out.
FACILITIES
"ELENA"
provides in its public areas or in rooms:









Category
: -
Open:

The hotel is open all year round, and thus it is ideal for winter and summer vacations.
Venues
The hotel has five (5) apartments and three (3) rooms.
The apartments have two bedrooms, a hallway, a bathroom and a kitchen, suitable for families or groups.
It is worth mentioning that there is free wi-fi internet and the kitchen has all the necessary equipment so the guests can prepare meals on their own.
The rooms provide comfort for those who want a more relaxing holiday.
Every visitor can relax and enjoy his coffee at the stunning balconies and come closer to nature.